Welcome to Ferbane Parish
Welcome to the parish of Ferbane in County Offaly and the diocese of Ardagh and Clonmacnois. Our parish comprises of three churches: The Immaculate Conception Ferbane, St.Oliver Plunkett, Boora and Saints Patrick and Saran, High Street. We hope you find something of interest here.
Live Stream from the Church of the Immaculate Conception Ferbane
Feast of the Most Holy Body & Blood of Christ

'Jesus in the Blessed Sacrament is the Living Heart of each of our parishes' (Pope St Paul V1)
This feast is charged with happy memories of throngs of the faithful moving in devotional processions through streets festooned with papal flags, tricolours and all manner of bunting. At every door stood little altars, laden with statues, holy pictures and candles. The men and women walked proudly and reverently in their 'Sunday best', as they prayed the fifteen decades of the rosary and raised their voices with gusto to sing the ancient hymns, while the children from the First Holy Communion class scattered flower petals on the roadway, and all to salute the Real Presence of Christ in the Blessed Sacrament. On this day we remember with gratitude all those who have gone before us marked with the sign of faith who preserved this treasure for us through days of persecution and days of prosperity. It could be said that we got cheap what they bought dear. They have left us a monument more lasting than bronze. As we accept anew the responsibility of holding the gift in trust for the next generation we recall the words spoken by Pope Benedict to parents some years ago: 'Please go with your children to Church. This is not time lost. The day becomes more beautiful, the whole week becomes more beautiful when you go to Sunday Mass together'. 'The moment we separate our lives from the Eucharist, something breaks' (St. Teresa of Calcutta)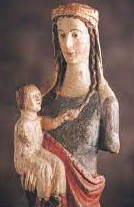 Our Lady of Clonfert
I come to you, as one of your children, who will never forget the importance of a woman like you. I come because I believe in you. I come to say thanks for the past and the present and ask you to bless me in the future. You know me, you know how I live and you know my needs. Please help me especially when I need you most. I have problems, worries and anxieties the same as everyone else - help me to cope. So often I would just love to give up when life hurts me and people betray me, but give me the courage never to lose heart. Bless my family, my life and my friends. Help me, no matter what happens to me in life, to believe, to trust and to hope. Our Lady of Clonfert, pray for us.
PRAYER FOR UKRAINE
Loving God we pray for the people of Ukraine, for all those suffering or afraid, that you will be close to them and protect them. We pray for world leaders, for compassion, strength and wisdom to guide their choices. We pray for the world, that in this moment of crisis we may reach out in solidarity to our brothers and sisters in need. May we walk in your ways so that peace and justice become a reality for the people of Ukraine and for all the world. Amen. "May the Queen of Peace preserve the world from the madness of war." (Pope Francis

Fr.Peter Burke 090 6454380

Fr.Michael Morris 090 6454309
Sr.Joseph Fallon 090 6453695
Contact: Fiona Dooley

Office Hours: Wednesdays 9:00am to 5:00pm
Telephone: 090 6454309
eMail: parishoffice@ferbaneparish.ie
Note: Deadline for the parish bulletin is 3:00pm
on Wednesday
St.Ciaran's Pastoral Area
Weekend Masses
| | | | | | | |
| --- | --- | --- | --- | --- | --- | --- |
| | | Church | | Saturday | | Sunday |
| | | Ferbane | | 7:00pm | | 11:00am |
| | | Boora | | | | 9:30am |
| | | High Street | | | | 12:00Midday |
| | | Shannonbridge | | 7:00pm | | |
| | | Clonfanlough | | | | 10:30am |
| | | Ballinahown | | | | 11:30am |
| | | Boher | | | | 10:30am |
| | | Pullough | | 6:30pm | | |
| | | Cloghan | | 8:00pm | | 9:30am |
| | | Banagher | | 6:30pm | | 11:00am |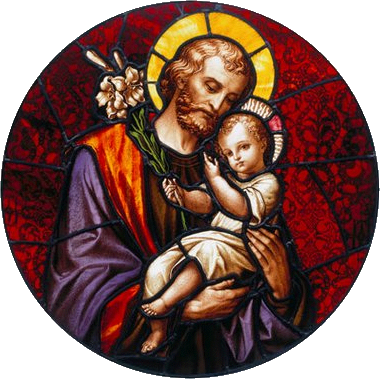 Prayer to St.Joseph
Hail, Guardian of the Redeemer,
Spouse of the Blessed Virgin Mary,
To you God entrusted his only Son,
in you Mary placed her trust;
with you Christ became man.
Blessed Joseph, to us too,
show yourself a father and guide us in the path of life.
Obtain for us grace, mercy and courage,
and defend us from every evil. Amen.
With the Apostolic Letter "Patris corde" ("With a Father's Heart"), Pope Francis recalls the 150th anniversary of the declaration of Saint Joseph as Patron of the Universal Church. To mark the occasion, the Holy Father has proclaimed a "Year of Saint Joseph" from 8 December 2020 to 8 December 2021.